In Memory of Phil and Jan Karlton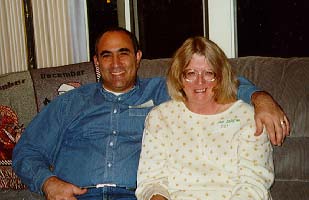 Phil and Jan were killed in a traffic accident near Milan, Italy on Friday June 20, 1997. A mailing list for communication among their friends has been set up at karlton-list@hamilton.com. To subscribe to the list, send mail to majordomo@hamilton.com with subscribe karlton-list in the body of the message.
San Jose Mercury News Story
Mack Lundstrom of the San Jose Mercury News wrote an excellent story based in part on the material here. See the original story or a local text only version.
Memorial Service
The memorial service was held in Palo Alto on July 8.
An Online Scrapbook
This is a work in progress.
Mailing list archive
Messages to karlton-list@hamilton.com are automatically archived here.
Karltonisms
There are a lot of one liners said by and about Phil like the one at the right. Here you can see and record more.
OK, I'll byte.
---
Send any contributions for this site to webmaster@karlton.hamilton.com.